The Graziadio School of Business and Management at Pepperdine University announced Monday it is launching a new online MBA program for working professionals.
Associate Dean of Academic Affairs David Smith, who has overseen the development of the new program, which is officially called the Online Fully Employed MBA, sees the new online option as just another flexible choice in the school's three part-time and five full-time MBA degree program catalog.
"Students more than ever want flexibility and convenience," said Smith in a phone interview Monday. "This online framework increased the flexibility of when students can take classes. That's what drove us to explore this space.
Pepperdine's move to the online forum brings another top-ranked, Association to Advance Collegiate Schools of Business-accredited player to the field. Graziadio's full-time MBA from has made the U.S. News and World Report top 100 in the country. The news magazine has also placed the part-time fully-employed MBA in the top 50 and the school's executive MBA made Bloomberg Businessweek's top business schools for working executives internationally, ranking the program No. 31.
In the past year, Graziadio's peers such as University of North Carolina at Chapel Hill's Kenan-Flager business school and George Washington University School of Business, Howard University, and West Coast neighbor UCLA Anderson School of Management have all unveiled or announced online MBA programs.
In April, the UCLA Anderson School of Management announced a hybrid scheduling option to its fully-employed MBA track.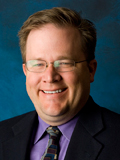 "I'm not surprised to see more high quality schools add a hybrid or fully-online option," said Smith. "We educated individuals (i.e. school decision makers) about what's really possible in the online space versus what our assumptions might be, which might have had us stuck back a couple of years ago, but the technology demands have allowed us a lot more interactivity in the online environment.
"I think the dean at every business school has on their minds what their digital strategy is going to be in the next five to 10 years," he said. "In the graduate business school market, there's a lot of movement from these quality schools into this space. I think every school needs to have a strategy about what they are going to do with online."
---
Database: Search, Sort, Compare Online MBA Programs | School Reports: Full Details on MBA Programs | Specialties: Research MBA Concentrations
---
How the Program Will Work
The Graziadio School is currently accepting applications for its first class, which is scheduled to start in January 2013. The program does have an on-campus requirement, the first weekend of the first semester. Focused on leadership and team development, it will be a weekend-long obligation, and it is the only mandatory campus visit. Applicants will also be required to have an acceptable GMAT or GRE score, bachelor's degree with an acceptable grade point average and at least two years of professional work experience.
Faculty who teach in the face-to-face program will be teaching in the new online program. The program primarily will be asynchronous, but will have some live components. The program will use the Sakai online learning platform, which is also currently being used by Marist College, another AACSB-accredited school offering an online MBA, but Smith also hopes to incorporate other technologies, like Yammer, JoinMe, and Voicethread. Smith says the school hasn't decided on a video provider yet, but plans to use that technology as well.
"By putting together all these different tools, we're hoping to create a rich, interactive experience for our students," Smith said.
Smith aims to have cohort groups of 25 students and will offer three concentrations – leadership, finance, and marketing. The trio also represents the most popular concentrations in the school's traditional MBA program.
"It's critical that we get this program off on the right foot, so we're putting a lot of attention into course development and faculty development, so we hit a home run with that first cohort," said Smith, who's also looking to build a student population that reflects the school's current demographics — students with five to six years of professional experience.
"We just find that student experience is so important in the learning process, so we aim a little higher than most schools in the level of business experience we expect," said Smith. "In the end, we want to put together a cohort where there's a strong level of managerial experience, contributing to peer learning."
Since the program mirrors the on-ground MBA, the school is also looking at ways for traditional students to take online courses, creating their own hybrid experience. Smith is exploring ways for online students to come to the Malibu campus and participate in traditional MBA events and business simulations, creating networking opportunities.
–Alanna Stage, @AlannaTweets