How Successful Startups Hire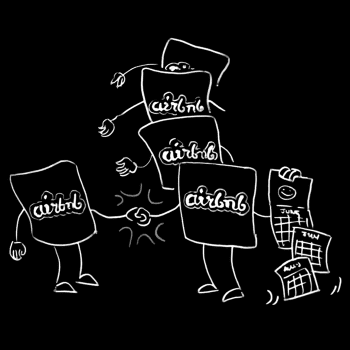 Staffing a startup is an art. And while you'll find dozens of different theories on right-fit hiring in the blogs, books and podcasts of seasoned HR reps and startup founders, there are two words you're mostly like to find in all of them: culture and drive.
It seems intuitive, right? Only hire clever, execution-oriented employees if you want a clever, execution-oriented team. The problem is where do companies find these wonder-workers who are both qualified and culturally a good fit? One trick is to tap your current team's friend networks. Ask your best engineer who the best engineer he or she knows is. Then do everything you can to hire that engineer. Of course, demand for these rare startup types is high and friend pools can be exhausted quickly. And no matter who refers the employee, it's impossible to know if the fit is right until someone officially joins the team.
Companies like Google, Facebook and Zynga are hedging some of their hiring bets with a new practice called Aqui-Hiring. In order to acquire proven and brilliant talent, these high-tech firms and any other with the cash to do so are now buying startups, shutting them down and hiring their employees. Aqui-Hiring has a been a big boon to big-tech employers, but how should those of us who can't afford to buy another team wholesale move forward with hiring decisions?
Check out the latest video on successful startup hiring from Online MBA to get an idea of where to begin.
Video Transcript
The hallmark of the best start-ups is mission-driven employees. In fact, Facebook offered to purchase start-up mobile app company Glancee just to get to the startup's exceptional talent - not for the actual business.# If you want to hire employees for your start-up that are worthy of a bidding war, here's how to do it:
Tap the friend base: Chances are your awesome programmer is friends with other awesome programmers (or sales person, or any other position). Give your employees and biggest customer fans an incentive for referrals - whether it's cash, a good parking spot, or a cupcake tree, whatever you can afford. Dropbox offered 250 megabytes of free storage to their most devoted fans in exchange for a successful referral.
Take your time: Start-up Airbnb interviewed for three months before hiring their first employee - it just took that long to find the right culture fit. Airbnb also has all candidates meet with not only the head of department they will work for, but the whole team as well.
Put them to the Test: In an effort to recruit only the cleverest programmers, Instagram had interviewees complete a photo challenge - writing a program that takes a shredded photo and reassembles it.
Fight for the culture: Don't let someone in the door that isn't a good culture fit - culture and mission are what drive start-ups. E-commerce store Zappos offers new-hires $2,000 to quit during training, an opportunity to get out if it's not a good fit. While that's a bit extreme, startups should be just as stringent about never-bending when it comes to only hiring people who embody their company's culture.