OnlineMBA.com is an advertising-supported site. Featured or trusted partner programs and all school search, finder, or match results are for schools that compensate us. This compensation does not influence our school rankings, resource guides, or other editorially-independent information published on this site.
Are you ready to discover your college program?
Credit: Tom Werner / DigitalVision / Getty Images
MBA students can choose from several MBA concentrations to learn career-related topics. Some colleges and universities offer nearly 20 concentrations, while others include a select few. Examples include real estate, human resources, and entrepreneurship.
Many general MBA scholarships exist to help graduate students finance their degrees. These scholarships typically come from business-focused organizations, charity and nonprofit funds, or colleges and universities.
However, searching for scholarships by MBA concentration can make it easier for learners to find relevant scholarships. Concentration-based scholarships are also less competitive than general MBA scholarships because of their limited applicant pools.
This guide features popular scholarships for MBA concentrations, such as information technology and international business, along with application requirements and funding amounts. Use our list to start your search for the best scholarships for your MBA concentration.
Featured Scholarships
Although general MBA scholarships are more prevalent, students can pursue several scholarships for MBA concentrations. This list contains a few scholarships for some of the most popular and highest-paying MBA concentrations.
Management
Who Can Apply: Undergraduate or postgraduate students who have declared majors in management, risk management, or other insurance-related fields
Amount: $2,000
The AICP Scholarship program offers up to four annual awards for students enrolled in accredited programs and pursuing insurance careers. AICP selects recipients based on their GPA, letters of recommendation, school involvement, and interest in the insurance industry.
Who Can Apply: Graduate students with American Public Transportation Association (APTA) sponsors who plan to work in the management sector of the transit industry
Amount: $5,000-$10,000
One full-time graduate student studying management or business administration and seeking a career in public transportation can receive this scholarship, a joint effort between the APTA and American Public Transportation Foundation.
Who Can Apply: Enrollees of accredited colleges or universities with declared majors in hospitality, franchise, or business management
Amount: $2,500
In addition to the scholarship award, this co-sponsored scholarship gives its recipient a travel stipend of up to $1,500 to attend the IFA Annual Convention.
Entrepreneurship
Who Can Apply: International MBA students enrolled in MPOWER-supported schools in the United States or Canada
Amount: $2,000-$10,000
MPOWER helps students across the world pursue their entrepreneurial goals. This scholarship awards three students each year. Each candidate must complete an essay explaining how receiving an MBA will allow them to run a profitable and positive business.
Who Can Apply: Hispanic or Latino United States citizens with Prospanica membership, legal permanent residents, or DACA recipients enrolled in postgraduate programs at accredited schools
Amount: $2,000-$5,000
Annual awards from this scholarship assist entrepreneurial students passionate about shaping the future of Hispanic communities through business.
Who Can Apply: Undergraduate or graduate students with entrepreneurial mindsets
Amount: $1,000
FormSwift awards this scholarship four times a year. Each candidate must create an infographic explaining their business plan in the clothing, nonprofit, restaurant, startup, or transportation sectors.
Finance
Who Can Apply: Undergraduate and graduate students enrolled in accounting programs planning to pursue certified public accountant credentials
Amount: $3,000-$10,000
The American Institute of Certified Public Accountants (AICPA) awards 25 recipients to assist them as they complete finance degrees. Candidates must demonstrate financial need and maintain AICPA Student Affiliate membership.
Who Can Apply: Full-time graduate students, preferably individuals pursuing careers in local or state government finance
Amount: $20,000
Created by the Government Finance Officers Association (GFOA) and funded by the Girard Miller Foundation, this scholarship requires each applicant to submit a letter of recommendation from someone who can attest to their interest in the public sector.
Who Can Apply: Minority full-time and part-time graduate students pursuing finance or finance-related careers
Amount: $10,000
Another offering from the GFOA, this scholarship assists minority students looking to work in finance within the public sector.
Marketing
Who Can Apply: College sophomores, juniors, seniors, and postgraduates pursuing marketing, communications, or public relations degrees
Amount: $2,000
Recipients of this Public Relations Professionals of Long Island (PRPLI) scholarship receive a one-year PRPLI membership in addition to the monetary reward to access its networking and professional development benefits.
Who Can Apply: Full-time graduate and Ph.D. students majoring in advertising, marketing, or public relations accredited institutions
Amount: $3,250
This scholarship awards 40 recipients with paid travel and attendance to a LAGRANT Foundation event with marketing-related workshops and career development activities.
Information Technology/Information Security
Who Can Apply: Women majoring in technology-related fields in undergraduate or master's programs
Amount: $10,000
Adobe Research encourages women with strong academic records and proven leadership to apply for this scholarship, which also grants a free Creative Cloud membership and the opportunity to apply for a position with Adobe.
Who Can Apply: Full-time undergraduate, graduate, or doctoral students working toward computer science or IT-related degrees
Amount: $10,000
Google presents its Generation Google Scholarship to recipients who demonstrate financial need, strong academic history, and leadership and commitment to the STEM industry. It especially encourages students from underrepresented communities to apply.
Who Can Apply: Undergraduate, graduate, and doctoral students pursuing degrees in STEM
Amount: $25,000-$35,000 per year
This scholarship from the Department of Defense (DoD) may cover full tuition for students in IT MBA programs. Each recipient also receives a summer internship, a book and health allowance, and employment with the DoD.
Human Resources
Who Can Apply: Graduate students pursuing degrees in human resources or related fields within the public sector
Amount: $3,000
Although encouraged, applicants do not need to be National PERLA members to receive this scholarship. However, each applicant must submit a resume, two letters of recommendation, and essay responses.
Who Can Apply: Part-time or full-time undergraduates or graduates pursuing careers in the employee benefits field at accredited New England institutions
Amount: Up to $5,000 per year
The NEEBC offers this annual award to recipients who demonstrate an interest and commitment to the human resources profession. Considerations include work experience, academic performance, and extracurricular activities.
Who Can Apply: Current SHRM members enrolled in master's or doctoral programs at accredited institutions in HR-related fields
Amount: $5,000
This one-time award pays directly toward a recipient's institution of higher learning. Past applicants and recipients can reapply annually.
Healthcare Management
Who Can Apply: Diverse full-time graduate students enrolled in their final year of healthcare administration or related programs
Amount: $5,000
Established by the Foundation of the American College of Healthcare Executives, this scholarship awards as many as 15 recipients each year to encourage diversity in healthcare.
Who Can Apply: First-year graduates enrolled in health administration, health policy, or related degrees
Amount: $10,000
Recipients demonstrate their commitment to improving healthcare and policy through community involvement and leadership. Applicants must submit two nominations, a resume, transcripts, and a personal statement to qualify for one of ten awards.
Who Can Apply: Second-year, full-time students in residential healthcare management programs
Amount: $6,000
This scholarship awards one recipient annually based on academic achievement, a personal statement, professional experience, and letters of recommendation. The foundation prioritizes female candidates with financial need who are the first in their families to attend graduate school.
Real Estate
Who Can Apply: Undergraduate and graduate students interested in real estate appraisal
Amount: Varies
The Appraisal Institute Education & Relief Foundation funds this scholarship to assist students in making a positive impact on the appraisal and valuation industry.
Who Can Apply: Real estate students enrolled in two-year or four-year California colleges
Amount: $2,000-$4,000
The C.A.R. Scholarship Foundation funds its scholarship program through donations from REALTORS®, real estate agencies, and businesses to assist students interested in beginning their real estate careers in California.
Who Can Apply: Any student in the United States, Canada, or Australia currently enrolled or planning to enroll in a real estate degree program
Amount: $5,000 per year
Offered by graphic design firm Sprak Design, this scholarship targets students pursuing careers in various real estate fields, including landscaping, real estate management, and insurance.
International Business/Global Management
Who Can Apply: Undergraduate or graduate students in the United States interested in global business
Amount: $5,000 per year
Nomad Capitalist's scholarship program seeks students who may need financial help to begin their international business journeys. Candidates may apply by submitting a YouTube video answering the prompt.
Who Can Apply: Women enrolled in undergraduate or graduate programs in U.S. colleges or universities who have an interest in international trade
Amount: $1,500
Each applicant must submit an essay demonstrating their interest in and knowledge of international trade. In addition to the monetary award, recipients receive a one-year WIIT membership and mentorship from a current member.
Common Questions about MBA Concentration Scholarships
Are there any government scholarships for an MBA degree?
Usually, MBA scholarships are funded by private organizations or educational institutions rather than the government. However, students can contact their state's Department of Education to learn more about potential government and private scholarships within their states.
Can I get a full MBA scholarship?
Yes — some business schools offer all-expenses-paid scholarships for select MBA students. Typically, these scholarships require candidates to exceed the school's academic standards, write essays, and showcase well-roundedness through extra-curricular activities and volunteerism.
How many MBA students get scholarships?
The number of MBA students who receive scholarships varies by availability, requirements, and funding.
Is it hard to get an MBA scholarship?
Some MBA scholarships are more difficult to get than others. However, some are based solely on financial need or academic merit. Applicants can boost their chances of receiving some scholarships by spending time writing quality essays, increasing their GMAT scores, and applying as early as possible.
Reviewed by: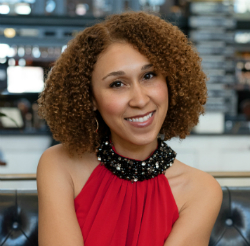 Krystal Covington, MBA
Krystal Covington, MBA, is a business growth strategist with 15 years of experience in marketing and public relations. Her company, Go Lead Consulting, provides clients with foundational tools to build new client and customer relationships.
Covington founded Women of Denver, one of the largest privately held membership organizations in Denver, Colorado. Her program helps women increase their business acumen, sharpen leadership skills and connect with other high-achieving women. Covington received her MBA from Western Governors University in 2012.
Krystal Covington is a paid member of the Red Ventures Education Integrity Network.
Search Programs by Concentration
View schools and degrees from across the country.
Find the right program to advance your career.