OnlineMBA.com is an advertising-supported site. Featured or trusted partner programs and all school search, finder, or match results are for schools that compensate us. This compensation does not influence our school rankings, resource guides, or other editorially-independent information published on this site.
Are you ready to discover your college program?
Credit: John Giustina / The Image Bank / Getty Images
What Is MBA Accreditation?
Accreditation is an independent evaluation process designed to recognize colleges and universities that meet rigorous academic standards. In order to gain accreditation, institutions of higher learning must demonstrate their academic quality to an independent accrediting agency.
This practice dates back to the late 1800s to early 1900s, when the first regional accrediting agencies formed to create high educational standards and monitor admissions procedures. Since then, accrediting agencies have developed rigorous standards that colleges and universities must meet to earn accreditation. While accrediting agencies operate independently, the government regulates the process. In 1965, Congress passed the Higher Education Act, which authorizes the U.S. Department of Education (ED) to oversee accrediting agencies.
Accreditation serves the public interest, ensuring that students receive a quality education by requiring colleges and universities to meet high academic standards.
Today, multiple regional and national accrediting agencies grant accreditation to institutions of higher learning. These accrediting agencies serve an important function. Accreditation serves the public interest, ensuring that students receive a quality education by requiring colleges and universities to meet high academic standards. With more than six thousand colleges and universities in the United States as of 2018, accreditation also helps students and employers determine the value of a particular degree.
Each independent accrediting agency develops their own criteria for accreditation. These standards may include an institution's educational quality, financial stability, and ethical principles. Accrediting agencies often examine student learning outcomes such as student retention, assessment of particular skills, graduate placement records, and student satisfaction. Once an institution has earned accreditation, it must undergo a regular periodic review process in order to maintain its accredited status.
Accreditation is a voluntary process. Institutions of higher learning pursue accreditation to demonstrate their quality, and prospective students can evaluate schools by their accreditation records. In addition to regional and national accrediting agencies, there are also program-level accrediting agencies. These agencies are private, nonprofit organizations regulated by federal law.
The goal of accreditation is to identify exceptional institutions of higher learning. Accreditation can also help universities improve academic quality and maintain public accountability by demonstrating their qualification to confer degrees. According to one accrediting agency, graduates from accredited MBA programs are better prepared to compete for top positions on the job market. Accreditation is one of the best and easiest ways for students and employers to evaluate a school's educational quality. Colleges and universities always list their accreditations on their websites, and accrediting agencies provide lists of approved institutions.
Online MBA Programs for You
Grow your career, leadership, and business acumen with an accredited online MBA program.
Types of Accreditation
National Accreditation
National accreditation refers to the recognition conferred by non-regionally specific accrediting agencies. As with regional accreditation, national accreditation is regulated by the Department of Education. Today, national accreditation agencies typically focus on evaluating career, vocational, and trade schools. Specializing in career-oriented degrees, these institutions do not usually offer the kind of liberal arts education required by regionally accredited schools.
In most cases, national accreditation is not as prestigious as regional accreditation. Credits earned at a nationally accredited institution may not transfer to a regionally accredited one, and degrees from nationally accredited institutions may not meet the requirements for certain professions that require licensing. The Department of Education recognizes several national accrediting agencies, including the Distance Education & Training Council (DETC), the Accrediting Council for Independent Colleges & Schools (ACICS), and the Accrediting Commission of Career Schools and Colleges (ACCSC).
Regional Accreditation
Regionally-recognized agencies grant accreditation to geographically-local colleges and universities. For accreditation purposes, there are six different geographical regions in the United States. The Southern Association of Colleges and Schools Commission on Colleges, for example, acts as a regional accrediting agency for the southern states, while the Higher Learning Commission covers central states from Arizona to West Virginia.
What does regional accreditation mean? Regionally accredited institutions meet the most rigorous standards of academic excellence, and are seen as more prestigious than national accreditation. Credits and degrees earned at regionally accredited institutions are more likely to transfer, and to qualify for corporate tuition reimbursement programs. Some accredited online MBA programs, for example, will only admit students who hold a bachelor's degree from a regionally accredited institution. The top colleges and universities hold regional accreditation.
MSA: Middle States Association of Colleges and Schools
NEASC: New England Association of Schools and Colleges
NCA: North Central Association of Colleges and Schools
NAC: Northwest Accreditation Commission
SACS: Southern Association of Colleges and Schools
WASC: Western Association of Schools and Colleges
Institutional Accreditation
Institutional accreditation certifies that an entire institution meets high academic standards. National or regional accrediting agencies confer institutional accreditation after evaluating an entire school, as opposed to programmatic accreditation, which specialized agencies grant to specific programs within an institution. Regardless of which degree a student pursues, institutional accreditation guarantees that their chosen college or university meets high standards of quality. To maintain institutional accreditation, schools must undergo regular reviews and submit academic and financial reports to the accrediting agencies.
The top public and private institutions of higher education all hold institutional accreditation from regional accrediting agencies, and employers may prefer to hire graduates of institutionally accredited schools.
Specialized and Programmatic Accreditation
Specialized and programmatic accreditation evaluates particular schools or departments within a broader institution of higher learning. For example, a university's business school may hold programmatic accreditation in addition to the institutional accreditation held by the university. In order to receive specialized accreditation, the agency evaluates a program's curriculum, the faculty's qualifications, student outcomes, and several other factors. Because programmatic accrediting agencies specialize in evaluating certain departments, their standards are often specific to that field or discipline.
There are three top accrediting agencies for MBA programs: the Association to Advance Collegiate Schools of Business (AACSB), the Accreditation Council for Business Schools and Programs (ACBSP), and the International Accreditation Council for Business Education (IACBE). The best online MBA programs hold accreditation from one of these agencies in addition to institutional accreditation.
Who Monitors Accrediting Agencies?
While independent, nonprofit accrediting agencies confer accreditation on institutions and programs, the U.S. Department of Education and the Council for Higher Education Accreditation (CHEA) monitor accrediting agencies. The ED oversees education at the federal level, including private accreditation-granting educational associations. The ED approves accrediting agencies and maintains a database of accredited schools. CHEA, a national advocate group, is made up of representatives from 3,000 colleges and universities, including a board of college and university presidents. CHEA works closely with the federal government to maintain accreditation standards, and reports on accreditation to the ED and Congress.
The ED and CHEA both evaluate accrediting organizations, including MBA accrediting agencies, to ensure they properly carry out the accreditation process. This includes validating accrediting agencies, monitoring their processes, and promoting high academic and ethical standards. Together, the ED and CHEA use oversight and advocacy to ensure that American colleges and universities meet standards of excellence. The ED and CHEA also maintain a list of all accredited business schools.
Business School & MBA Accreditation
While national and regional accrediting agencies evaluate entire institutions, specialized accrediting agencies assess individual programs within an institution. The most prestigious business schools and MBA programs hold programmatic accreditation. Several agencies focus exclusively on business schools and MBA programs, and students considering an online MBA should always check the program's accreditation.
What is the best accreditation for an MBA? It depends, in part, on your goal. The ACSBP, for example, accredits MBA programs with a research focus, which may provide an advantage for graduates pursuing research-based careers. The AACSB is the most selective of the top three business accrediting agencies, and a degree from an AACSB-accredited program is considered highly prestigious. The IACBE focuses on smaller institutions, evaluating their success at carrying out program missions.
All three MBA accrediting institutions have slightly different methods, but their purpose is the same. Programs that hold accreditation from the AACSB, the ACSBP, or the IACBE are guaranteed to meet high academic standards.
Association to Advance Collegiate Schools of Business (AACSB)

The Association to Advance Collegiate Schools of Business is the oldest and most prestigious of the three MBA accrediting agencies. The AACSB dates back to 1916, when a group of top colleges and universities, including Harvard, the University of Pennsylvania, Northwestern, and the University of Chicago, founded the Association of Collegiate Schools of Business. These institutions, which still run the top MBA programs in the nation today, created the AACSB to promote excellence in business education.
As one of the most trusted resources for evaluating MBA programs, the AACSB represents the gold standard of business accreditation. The organization accredits fewer than five percent of eligible MBA programs, marking out the most elite programs conferring MBA degrees. Business programs that hold AACSB accreditation meet rigorous standards of academic quality, faculty qualifications, and student outcomes.
Schools seeking AACSB accreditation must undergo a lengthy evaluation process. Upon reviewing a school's application, AACSB staff members create a standards alignment plan, and assign a peer review team to conduct on-site reviews and assessments. The entire process can take several years, and the AACSB reviews accredited programs every five years. MBA programs must also submit regular self-evaluation reports to demonstrate continued adherence to AACSB criteria.
AACSB accredited online MBA programs meet well-recognized standards. Students at AACSB- accredited institutions benefit from academically rigorous curricula taught by top professors and researchers. Degrees earned through AACSB online MBA programs also confer reputation value, and some elite employers will only recruit graduates from AACSB business schools. The right kind of accreditation may ultimately lead to better career opportunities and higher salaries for graduates.
Accreditation Council for Business Schools and Programs (ACBSP)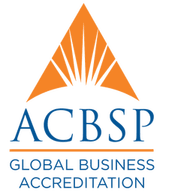 Founded in 1988, the Accreditation Council for Business Schools and Programs is a relatively new accrediting agency. The ACBSP grants accreditation to institutions that demonstrate their teaching excellence, show strong student learning outcomes, and follow models for continuous improvement. The ACBSP follows a student-centered teaching and learning approach to ensure that students gain the appropriate skills from their chosen degree program. ACBSP accredited MBA programs measure and certify the quality of student learning, as well as the outcome for program graduates.
In order to earn ACBSP accreditation, schools must apply and complete a detailed questionnaire. An ACBSP mentor is assigned to analyze the program and authorize a self-study report. The ACBSP then conducts an on-site visit before announcing its decision. In addition to its focus on student learning outcomes, the ACSBP prioritizes programs that emphasize research. Students who attend an ACBSP accredited MBA program benefit from the institution's commitment to quality, and the ACBSP reports that graduates from accredited business schools are better prepared to take on a competitive job market.
International Accreditation Council for Business Education (IACBE)

The International Accreditation Council for Business Education, the newest business accrediting agency, dates back to 1997 and gained recognition from CHEA in 2011. The IACBE evaluates programs according to the philosophy that excellence in education can be measured by comparing a program's mission to its educational outcomes. This agency tends to focus on smaller, private institutions.
To earn IACBE accreditation, programs undergo an independent, external evaluation process designed to measure effectiveness. The IACBE reviews a program's teaching and learning methods as well as its results. As with other accrediting agencies, programs applying for accreditation must prepare a self-study demonstrating compliance with IACBE principles and submit to an on-site visit conducted by independent peer reviewers. The IACBE Board of Commissioners then determines if the program has earned accreditation. Graduates with IACBE accredited online MBA degrees benefit from the IACBE's guarantee that the program meets high standards and follows the best practices in business education.
While researching online MBA programs, you can find out if a school is IACBE accredited by exploring the organization's database. A comprehensive list of schools is available to IACBE members upon request.
Online MBA Programs for You
Grow your career, leadership, and business acumen with an accredited online MBA program.
Why is MBA Accreditation Important?
An indicator of a quality education

MBA accreditation is one of the strongest guarantees that a program provides a quality education. The high standards of MBA accrediting agencies and their frequent review of accredited programs ensure that accredited online MBA programs are academically rigorous and comprehensive.

High-quality faculty

Accrediting agencies meticulously evaluate the faculty at MBA-granting institutions to ensure that they meet high teaching standards and contribute to the discipline through research. Accredited institutions also attract and retain high-quality faculty members.

Symbol of high quality reputation to employers

Prospective employers often evaluate the reputation of MBA programs by looking at accreditation. MBA accreditation provides an external guarantee that the degree-holder received a high quality education, and many agencies recommend that graduates include the accrediting institution's name on their resumes.

Help narrow your search

Accreditation can help prospective MBA students narrow their list of potential programs. All quality MBA programs hold some form of accreditation, but restricting a search to online MBA programs accredited by the AACSB, for example, will eliminate less competitive programs.

Allows the school to be internationally recognized

All three business accrediting agencies have an international presence, and grant accreditation to programs in the U.S. and abroad. Accreditation is a globally-recognized standard of excellence, which may prove beneficial for students planning careers in international business.

Can help you get financial aid

MBA tuition costs can be intimidating, but accreditation helps there, too. The federal government uses an institution's accreditation status to determine if its students are eligible for financial aid, so attending an accredited MBA program may help you pay for your degree. Similarly, most employer tuition reimbursement programs apply exclusively to accredited MBA programs.

Allows for transfer credits

Many online MBA programs accept transfer credits earned at other institutions––but typically only from accredited programs. As a measure of academic excellence, accreditation presents an easy way for institutions to determine the value of your transfer credits.

Avoid degree mills

Avoiding degree mills and other scams is crucial as you research schools and programs. The best accredited online MBA programs list their accreditations on their website, so if you have trouble determining whether a program is accredited, it's best avoided.
Search Programs by Concentration
View schools and degrees from across the country.
Find the right program to advance your career.