OnlineMBA.com is an advertising-supported site. Featured or trusted partner programs and all school search, finder, or match results are for schools that compensate us. This compensation does not influence our school rankings, resource guides, or other editorially-independent information published on this site.
Are you ready to discover your college program?
Credit: Marko Geber / DigitalVision / Getty Images
A master of business administration (MBA) sharpens the skills of current and aspiring managers and business professionals. The MBA dates back to the early 20th century. As the nation was becoming more industrial, companies needed professionals with strong management skills to lead administrative operations in the workforce.
The world's first MBA degree — offered by Harvard University in 1908 — took a scientific approach to the concept of management. The program identified a uniform set of skills for business administrators in any industry or field.
Since its introduction to industrial America, the MBA has evolved into a diverse and in-depth program for professionals in all areas of business and commerce. Today, the degree is meant to broaden students' skills in critical thinking, leadership, communication, and problem-solving, while also allowing them to pursue a particular concentration.
Continue reading to learn about different types of MBA degrees, typical coursework, and possible careers.
Explore This Page: MBA Grad Interview | MBA Degree Types | Curriculum | Careers | FAQ
What Do You Learn in an MBA Program?
Business professionals value MBAs because of their comprehensive curriculum, specializations, and practical application. To prepare graduates for future leadership positions, MBA coursework covers all aspects of business administration. Students learn about marketing, accounting, strategy, and finance. Soft skills, such as communication and leadership, are also developed.
The best online MBAs combine formal classroom training with hands-on learning. Students apply new knowledge and skills during simulation exercises, collaboration and discussion with peers, and examination of case studies. Final capstones often require students to develop a mock business, present a professional portfolio, or put together a mock proposal for an actual client.
A solid MBA foundation prepares graduates to enter or advance in the business sector. However, this credential can serve graduates beyond business applications. Skills in problem-solving, strategic research analysis, and effective communication translate to managerial potential in many industries.
In an MBA program, participants learn from other business professionals. MBA faculty often possess extensive leadership experience, in addition to a terminal degree. They bring unique experiences, perspectives, and ideas to the classroom, boosting textbook subjects with practical knowledge and expertise.
MBA Admissions Process
MBAs could be ideal for students with undergraduate degrees looking to advance in their current role in the workforce or pursue a career change. Potential MBA students who already have a business-related undergraduate degree can sharpen their skills through continued education in a concentration of their choice. Students with non-business undergraduate degrees can use an MBA to kickstart a career as an entrepreneur or manager.
Many MBA programs require applicants to have several years of work experience as a condition of acceptance. While undergraduates with little experience may still be eligible for admission, MBA programs generally favor experienced candidates.
Earning an MBA is a major accomplishment that offers significant benefits to those willing to make the commitment. However, even the admissions process can feel challenging. Expect to gather letters of recommendation, write essays, and take the GMAT or GRE test.
Once accepted, MBA candidates will likely devote much of their time to pursuing their degrees. Demanding coursework, homework, and internship/fieldwork commitments may leave little time for anything outside of school.
While it may not be realistic for everyone to stop working to attend school full time, trying to work while completing an MBA is often quite tricky. Pursuing a more flexible online MBA may be a sensible option for those looking to maintain a steady income while meeting the demands of an MBA program.
How Long Does It Take to Get an MBA?
The length of time it takes to get an MBA depends on many factors. An accelerated schedule allows you to graduate faster than a part-time program, but this depends on what options are available at a particular school. Some programs offer students the opportunity to take more than one class at a time, while others may have maximum credits each semester.
MBA students need to complete 30-60 credits, although learners without a bachelor's in business may need additional prerequisites. However, it can extend the length of time it takes to graduate. When choosing an MBA, students should select a program that matches their particular scheduling needs.
MBA students need to complete 30-60 credits, although learners without a bachelor's in business may need additional prerequisites.
Online MBA Programs for You
Grow your career, leadership, and business acumen with an accredited online MBA program.
The MBA Curriculum: What Is It?
The MBA curriculum typically includes foundation, core, and elective or concentration courses.
Students can look into the different courses before enrolling to get a better idea of what they might learn in an MBA program. Explore the various types of MBA courses:
Foundation Classes
MBA foundation coursework is important for undergraduates entering an MBA with a non-business degree. Classes include business finance and statistics. These help program administrators assess a student's level of understanding, while also helping learners build general professional skills they need in the workforce.
Core Classes
MBA program core classes explore important skills for business professionals, including accounting, economics, business strategy, and finance. Soft skills like leadership and communication classes may also be included in this category. Regardless of a student's concentration, they must satisfy a set number of core credits related to key concepts of business administration.
Electives/Concentration Courses
Electives and concentration courses depend on a student's area of interest. These types of courses provide in-depth study in a focused area of business administration to prepare students for their particular career path.
Common concentrations include accounting, entrepreneurship, and information technology management. The available electives depend on the program – some schools allow students to choose from a wide variety of interdepartmental courses, while others require students to choose from a smaller group of business topics.
Capstone
The capstone or final project is crucial while earning an MBA. A capstone may be delivered in a variety of ways depending on a program's individual requirements. Capstone projects can include developing a business proposal with a real-life client in mind or presenting a professional portfolio. Capstone courses provide students with an opportunity to showcase the skills they developed during the program.
In-Depth Interview With an MBA Grad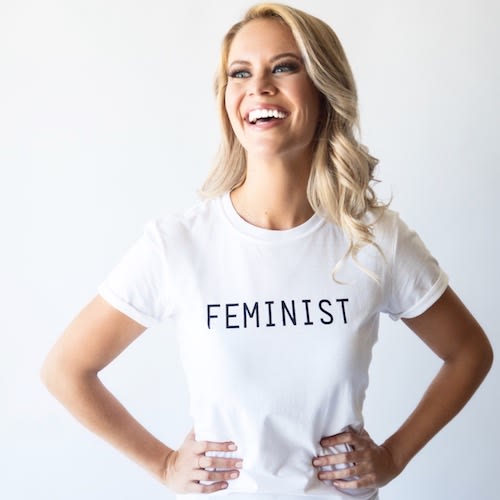 Anna Frances Wood
I was born and raised in the Bay Area and until this summer, I have never left! I went to the University of California, Berkley for my undergrad and designed my own major called organizations and leadership. I spent four years at Google and then went on to Stanford University for my MBA. Since then, I've founded Brains over Blonde — a feminist lifestyle platform for women who refuse to choose between femininity and success.
What made you consider an MBA?
I was fortunate that business school was on my radar early on, and I always knew I would likely want to pursue an MBA at some point. When my learning started to plateau at Google, I was ready for my next challenge, and it felt like the right time.
Explain your application process and experience choosing a school.
All in all, it was probably a two-year process: one year considering if an MBA was right for me and one year studying for the GMAT, getting the score I needed for the schools I was applying to, and then applying.
It was a huge personal growth process as the applications require a lot of self-reflection. I was lucky enough to get into my dream school, so the choice was an easy one.
I learned so much — not just about business, but also about life. I got an immense amount of feedback and learned more about who I am, how I come across, and who I want to be.
How was your experience in your MBA program?
It was the best two years of my life so far. I learned so much — not just about business, but also about life. I got an immense amount of feedback and learned more about who I am, how I come across, and who I want to be. I made friendships that will last a lifetime. The hardest part was my accounting classes, hands down.
How was your experience towards the end of your MBA program? Did your school offer to help?
Stanford offers many options to help, but I self-sourced my own internship because I had a pretty specific goal – to work as a startup CEO protege for a female founder. I went to all of her meetings and was involved with key decisions. I thought that would be the best way to prepare myself to found my own company after college.
How has your MBA affected your life after graduation?
My life will never be the same. I look at life differently, the possibilities of what I can do, the people I know – those relationships will last a lifetime.
What advice would you give to students who are thinking about earning their MBA?
Focus on culture fit; each school has a unique personality. Understand what that is and find the one that fits best with you.
What Types of MBA Programs Are Available?
Full-time MBA
Full-time MBAs are exactly what they sound like: a full-time commitment. Yet, it may not be possible to devote the time and money necessary for completing a two-year program full time due to other commitments. This traditional program option lets students explore a concentration fully and participate in a corporate internship to gain ample field experience.
Part-time MBA
Part-time MBAs are one of several options created to meet the needs of working professionals. Classes are held once a week. They may take place on or off campus, in the evening or on weekends. While part-time programs take longer to complete than a full-time MBA, this option can be convenient for those who want to advance their career while maintaining their professional and personal lives.
Online MBA
The online MBA has become a popular option for students seeking a more convenient curriculum format they can complete on their own time. Many online MBAs are also offered on an accelerated schedule, allowing students to maintain work and family obligations and still graduate in less than two years.
As with any online program, availability varies from state to state — be sure to check with your school about online options before you commit.
Hybrid MBA
The hybrid MBA offers a combination of online and on-campus study. Many hybrid or blended programs offer most coursework online and require minimal campus visits to supplement online classes. Others include equal parts of in-person and online learning sessions throughout the program.
This type of MBA may be well-suited for students close to a campus who prefer diverse learning methods and appreciate both independent and group study.
Executive MBA
The executive MBA is geared toward midcareer business professionals with roughly 10 years of experience in the industry. Compared to a traditional MBA, which covers general business concepts, this program offers a fast track for those looking to improve their existing business, start a new one, or advance their entrepreneurial skills.
Executive MBA classes typically fit the schedules of students with full-time jobs. Programs are faster-paced and may require fewer optional electives than a traditional MBA.
Accelerated MBA
The accelerated MBA is exactly that — accelerated. While there are plenty of accelerated MBAs offered on campus, some are also offered online, allowing students the dual convenience of a fast-track program that can be completed from the comfort of their home.
Accelerated programs concentrate a full-time study curriculum into a shorter version of the traditional MBA. This is typically done through longer bi- or tri-weekly intensives instead of shorter courses offered once a week. Some accelerated programs can be completed in as little as one year.
Professional MBA
The professional MBA caters to early-career business owners, and executives with less than 10 years of experience. Like the executive MBA, professional MBAs are offered as part-time programs, with courses available in the evenings or on weekends to better fit full-time work schedules.
Geared toward business professionals in the early stages of their careers, the curriculum of a professional MBA requires more foundation courses and electives than the executive program.
Global MBA
Though every school has its own approach to the global MBA, this degree is similar to a foreign exchange program for business-minded grad students. Global MBA cohorts tend to be small, made up of a carefully chosen group of domestic and international students.
These students show interest in incorporating global business concepts into their core MBA curriculum. The global MBA is well-suited for students seeking a worldly perspective on business and commerce, and provides ample study abroad opportunities during the program.
Modular MBA
The modular MBA is a fully customizable option for experienced business professionals. Like professional and executive MBAs, the modular MBA assumes students have a basic knowledge in fundamental business concepts, and does not require as many electives as a traditional MBA.
The modular MBA convenes infrequently, offering several modules in a particular topic simultaneously. It allows students to handpick modules and courses to build their own curriculum.
Dual MBA
The dual MBA offers students the opportunity to earn an MBA and another graduate degree simultaneously. This option may be especially convenient for students interested in mastering business administration skills for a career in public policy, criminal justice, or healthcare.
While the dual MBA may not compare to the highly immersive curriculum of a standalone, business-oriented MBA, it does allow students to earn graduate-level credentials in two specialized disciplines in roughly the same period of time as a single degree (and often for a discounted price).
MBA Certificates
MBA certificates are available in specialized areas of business and management; these are often used to supplement a graduate degree. While not required as part of an MBA program, earning a certificate in a subject like finance, data analytics, or even entrepreneurship can provide students with a highly specialized credential.
Certificates can also be useful during the job hunt after graduation. MBA certificates include some of the same coursework as a full MBA, and are available to both pre-MBA undergraduates and experienced professionals.
Why Should You Pursue an MBA Degree?
An MBA degree comes with the draw of increased salaries, career opportunities, and job security. Here are some other benefits of joining an MBA program:
Professional networking: Pursuing an MBA gives you the opportunity to collaborate with like-minded individuals in business, from students and professors to alumni. Forming meaningful professional relationships can enrich your understanding of the field. These contacts can also turn into long-term networking connections and help accelerate your career.
Real-world experience: An MBA goes beyond the classroom. It arms students with the strategies and decision-making qualities required to succeed in the real business world. Business leaders are often part of the faculty, mentoring students and helping them gain the skills and confidence necessary for solving real problems for a real company.
Better understanding of international business: An MBA, especially one with a concentration in international business, shows prospective employers that you have a keen sense of global affairs. The skills and confidence you acquired in your MBA journey help you market yourself to some of the top companies.
Online MBA Programs for You
Grow your career, leadership, and business acumen with an accredited online MBA program.
What Skills Do You Gain in an MBA Program?
Leadership and Motivation

Management is about making a team more efficient. Leadership is about motivating a team to work toward a common goal. MBA students learn leadership skills through a combination of psychology, sociology, and communication studies.

Teamwork

Successful business leaders know how to work effectively with other individuals and groups. Online MBA programs foster development of teamwork skills by enrolling students in cohorts and encouraging or requiring collaborative participation with other students.

Communication and Public Speaking

Communication skills are among the most vital soft skills for business leaders. While an online MBA may offer less opportunity for direct in-person contact with peers and professors, students can still enhance their communication and public speaking skills through theoretical study, message boards, and presentations.

Problem-solving

Effective leaders must know how to address issues and solve problems under pressure. Online MBA students learn essential problem-solving skills through class exercises, studying practical business challenges, and completing coursework.
ROI of an MBA
One of the most common reasons for earning a graduate degree is the likelihood of increased earning potential. However, not every master's degree-holder earns a premium salary compared to the income of a bachelor's degree-holder.
Therefore, prospective graduate students should calculate their own personal return on investment (ROI). In weighing the true worth and benefit of a degree, several factors should be considered, including program cost, long-term and short-term income potential, and lifetime benefits.
In the last two decades, an MBA has become the most common master's degree because of its focus on job-readiness and career advancement. Given the wide variety of MBA programs available, both online and in-person, the cost of the program can vary significantly.
The cost of an online MBA program from Colorado State University costs $42,615, while the cost of an MBA from Harvard University is $101,318. Online courses are not necessarily the most affordable MBA programs. For example, an online MBA program from George Washington University, tuition can be well above $100,000.
Many schools, including more expensive ones, often have options for financial aid. It must also be noted that an expensive school or degree may not always lead to the highest salaries. What matters more is the type of degree or concentration. Certain MBA concentrations have greater potential for higher starting salaries. While calculating the ROI , students must also take into account school debt.
The ROI of every MBA program differs from one student to another. To have a better understanding of a program's ROI, students must consider their own finances and the total cost of the degree, along with job growth and potential salaries in their chosen field.
| Master's Degree Type | Average Annual Salary |
| --- | --- |
| Master of Business Administration (MBA) | $91,000 |
| Master of Accounting (MAcc) | $73,000 |
| Master of Finance (MFin) | $78,000 |
Source: Payscale, December 2021
| Degree Level | Average Annual Salary |
| --- | --- |
| Associate of Business Administration | $57,000 |
| Bachelor of Business Administration | $69,000 |
| Master of Business Administration | $91,000 |
Source: Payscale, December 2021
Careers for MBA Graduates
For students interested in business, earning an MBA can be beneficial at all stages of their career. Those just starting an MBA program can develop valuable networking and entrepreneurial skills for future business ventures, while those nearing graduation gain work experience through internships and/or job assistance programs.
After graduation, MBAs provide graduates an advantage in an increasingly competitive workforce. MBAs are generally more versatile than other graduate-level business degrees; they offer a variety of concentrations and specialized coursework, allowing students to customize their studies according to their interests and career goals.
Whether looking to advance in your current job, find new employment opportunities, or transition into an entirely different career, an MBA is the gold standard for business professionals and prospective employers. The possibilities are nearly endless for MBA graduates, whether they aspire to a career in a traditional business setting (e.g., accounting, finance, or marketing) or in an emerging field (e.g., IT, energy, or global commerce).
FAQ About MBA Degrees
What is an MBA program?
An MBA stands for master of business administration, one of the most popular degrees in the world and offered by business schools globally. It was introduced by Harvard University in 1908.
What is an MBA's salary?
The starting average salary of an MBA graduate can be anywhere between $91,000 and $115,000 annually. The salary can depend on the school and the type of MBA concentration.
Is an MBA better than a master's degree?
While anyone from any professional or academic background can pursue an MBA, a master's degree is meant for those who want to specialize in a certain field. An MBA offers job growth and career flexibility, while a master's degree provides deep knowledge of a subject. Both options can be beneficial depending on your career goals.
Is an MBA hard?
An MBA may be easier for those who have professional experience in the business world. For someone just out of college earning an MBA degree could prove tough, but the challenges may be rewarding in the long run.
Featured Image: Marko Geber / DigitalVision / Getty Images
Search Programs by Concentration
View schools and degrees from across the country.
Find the right program to advance your career.