How Women Shape Business
Reviewed by
Our Integrity Network
OnlineMBA.com is committed to delivering content that is objective and actionable. To that end, we have built a network of industry professionals across higher education to review our content and ensure we are providing the most helpful information to our readers.
Drawing on their firsthand industry expertise, our Integrity Network members serve as an additional step in our editing process, helping us confirm our content is accurate and up to date. These contributors:
Suggest changes to inaccurate or misleading information.
Provide specific, corrective feedback.
Identify critical information that writers may have missed.
Integrity Network members typically work full time in their industry profession and review content for OnlineMBA.com as a side project. All Integrity Network members are paid members of the Red Ventures Education Integrity Network.
Women have been making strides in the business world for decades. Discover how women are shaping the field and leading change.
OnlineMBA.com is an advertising-supported site. Featured or trusted partner programs and all school search, finder, or match results are for schools that compensate us. This compensation does not influence our school rankings, resource guides, or other editorially-independent information published on this site.
Are you ready to discover your college program?
Credit: pixelfit / E+ / Getty Images
Women's History Month is a time to think back on the challenges that women have faced, as well as their successes. Women made major strides toward equality over the last 100 years, and progress shows no signs of slowing. In early 2020, before COVID-19, the workforce was almost exactly 50% women – a more than 20% increase from 1950.
Despite the dramatic evolution of women's societal roles over the last century, women have not overcome major obstacles in the workplace. Many high-earning fields are still male-dominated. Women's representation in leadership roles is still far from equal.
We examine why women are essential members of the workforce, the value they bring as leaders, and the strides they have made in management and entrepreneurship.
The History of Women in the Workplace
In the late 1800s, most working women were single, from a low income bracket, and had limited education. They worked in manufacturing, on farms, or as domestic workers, often in addition to taking care of the home and child-rearing.
By 1982, women were finally attending college at equal rates to men.
Between the 1930s to the 1950s, the rate of married women in the workforce jumped from 10% to 25% as legal and societal barriers came down. During this time, an increasing number of women took on jobs in schools, offices, and banks.
But it wasn't until the 1970s that a significant number of women began to pursue higher education, qualifying them for higher-paying careers alongside men. By 1982, women were finally attending college at equal rates to men.
Between the 1970s and the 1990s, women's representation in the workforce skyrocketed. But their representation in leadership positions is still lagging behind, two decades into the 21st century.
Why Women in Leadership Works
Research shows that workplaces with more women in leadership are more innovative and profitable.
But women often feel like they have to alter their behavior to be accepted into the "boy's club" of male-dominated industries. This can result in pressure to downplay personality traits that are associated with femininity – such as gentleness, cooperation, and helpfulness – in favor of qualities associated with masculinity, like competitiveness, dominance, and assertiveness.
In actuality, these downplayed traits are a big part of why companies with women business leaders are thriving.
But women often feel like they have to alter their behavior to be accepted into the "boy's club" of male-dominated industries.
Relationship Building: Women excel at reading body language, making connections, and building rapport. Fostering positive relationships with colleagues creates a healthy work environment. It also promotes better communication, which can ultimately improve operational efficiency and productivity.
Collaboration: Women are more likely to care for the collective and to try to reduce the workload of their teams. Collaborative teams promote better productivity and are linked to innovation and resilience in business.
Crisis Management: Some experts have suggested that women may be better leaders during times of hardship than men. Studies performed during the COVID-19 pandemic support this theory. One found that COVID-19 cases and related deaths were lower in countries with female leaders. Another found that U.S. states with female governors had lower fatality rates.
Empathy: Plenty of surveys cite that women report feeling more empathy than men. A recent study sought to compare actual behavior between the two sexes and found that female bystanders exhibited more empathic behavior than male bystanders. In the workplace, having an empathetic leader leads to higher levels of innovative thinking and engagement.
Online MBA Programs for You
Grow your career, leadership, and business acumen with an accredited online MBA program.
How Women Shape Businesses
The #MeToo movement, which went viral in 2017, sparked a moment of reckoning for prominent men from Hollywood to Washington D.C. who engaged in sexual misconduct or otherwise abused their power.
Countless women shared their stories. Millions of tweets including the hashtag. The #MeToo movement pushed a number of positive changes forward. Examples include many states extending statutes of limitations for sex crimes and making legislative changes to address rape kit backlogs.
Fifty-nine CEOs left S&P 500 firms in 2018, and 30.5% of those CEOs were let go non-voluntarily. This percentage is up from 22.1% the year prior, which Fortune partially attributes to #MeToo.
The success of the #MeToo movement forced companies to take sexual harassment more seriously, and start prioritizing diversity, equity, and inclusion (DEI) in the workplace. According to McKinsey, a third of the companies that they track made real improvements in top-team diversity over the period between 2014 and 2019.
As more women enter senior positions, it is likely that DEI will continue to improve. According to another McKinsey report, Women in the Workplace 2021, senior-level women are twice as likely as their male counterparts to spend time on extra time DEI efforts.
Women in Management
---
While other sectors make progress, certain industries are still male- or female-dominated. According to the Institute for Women's Policy Research, women are still more likely than men to work in professional and related occupations – about 26.2% and 17.5%, respectively. (This category mostly consists of roles that require higher education or advanced training, e.g. lawyers, nurses, teachers, accountants, and engineers).
When looking at management, business, and financial-related occupations, women are still slightly behind men – 13.7% compared with 15.4%, respectively.
Women made gains at every level of management between 2016 and 2021, as shown in McKinsey's most recent report. They excelled during the pandemic, in terms of representation in leadership. Qualities like crisis management skills and empathy proved crucial over this period.
The table below shows the percentage of women and men who participated in the workforce from 2017 to 2021. The ratio measures the disparity between the two groups. You can also notice a slight dip in both men and women's employment in 2020 and 2021, which economists attribute to the pandemic.
Women in the C-Suite
---
Companies with more women in C-suite positions (CEO, CFO, and COO) are "more profitable, more socially responsible, and provide safer, higher-quality customer experiences," the Harvard Business Review writes.
Yet in corporate America, men still vastly outnumber women in executive positions. On the ladder from entry level manager to senior manager to VP to C-suite positions, women's representation drops lower the further up you look.
For example, while women are almost half of entry-level managers, they represent only 35% of senior managers, and less than a quarter of C-suite executives, according to McKinsey.
There is no doubt that women are making headway. Between 2016 and 2021, there was a 5 percentage point increase in women in C-suite positions, according to the same report. And by the end of 2019, only 4% of California-based companies still had all-male boards, a huge decrease from 29% in July of the previous year, according to KPMG.
Some companies are doing more to foster women in leadership positions than others. Forbes publishes an annual list spotlighting America's best employers for diversity that have more than 1,000 employees.
Real estate company JLL came in at number 1. Its Annual Women's Summit, which JLL hosted 10 consecutive years, focuses on strategies for elevating women in the workplace. At the board level, 75% of directors represented gender or racial diversity in 2021.
Ingrid Jacobs, JLL's head of diversity and inclusion, told Forbes the company's success has come from a "top-down focus on creating an inclusive workplace." In the Americas, more than 8,000 of JLL's employees are members of local chapters of its business resource groups (BRGs).
Women Entrepreneurs
Before 1988, women needed a man to co-sign an application for a bank loan. But today, there are some 11.5 million women-owned businesses in the U.S. representing almost two-fifths of all businesses.
During the pandemic, the number of women who started their own businesses increased substantially. Human resources platform Gusto found that almost half of people who started businesses in 2020 were women, up from 27% in recent years.
Many factors contribute to the recent wave of women going into business for themselves. Some women are driven mainly by pursuit of their passion. Others want to escape the glass ceiling of the corporate world. Experts say that the pandemic, which hit women especially hard, contributed to this trend.
Women, especially women of color, were laid off disproportionately compared to men during the onset of COVID-19. A fourth of women – double the number of men – reported becoming unemployed during the pandemic due to lack of childcare.
Starting a business appeals to women who are caregivers or raising children. Owning their own grants them more control of their schedules.
According to a survey from e-commerce platform, Shopify, more than half of mothers reported some interest in starting their own business. Mothers of color and single moms reported the highest levels of interest in entrepreneurship.
Mompreneur
---
Coined in the 1990s to describe mothers who were also entrepreneurs, the phrase holds significance today in unifying women who are raising children and running their own businesses.
This is especially true since the surge of new mompreneurs that have emerged during the pandemic.
La Kesha Wash, a Bay Area mother, quit her job as an employee of the local government to launch her interior design business, Meticulous Designs.
An Oklahoma woman, Sallie Dale, who used to be an art teacher, turned her Etsy business selling punch needle pattern kits into a thriving business called the Urban Acres. Her husband now works with her full-time and the two employ other local mothers. Her kits retail in Australia and Canada.
Check out our list of community groups and resources that mompreneurs count on for support:
Business Among Mothers (BAM): The organization of more than 35,000 members offers webinars, discussion groups, and in-person events for members of local chapters.
Moms of Business (MOB): MOB is a community for women entrepreneurs of all ages to connect, seek support from one another, and network.
Women Business Owners Supporting Women Business Owners: Founder and president of Powers Digital Marketing started the group in 2017 to serve as a "Facebook Mastermind" of women entrepreneurs. Today, it has more than 23,000 members.
Hey Mama: The website is open to entrepreneurs, advisors, executives, as well as other working mothers. It offers opportunities to network over email, Slack, and during its 50+ monthly digital and in-person events.
Social Media: You can participate in the latest conversations surrounding women in entrepreneurship by searching Twitter and Instagram for hashtags like #UpWithHer and #MotherHustler.
Insights From an Entrepreneur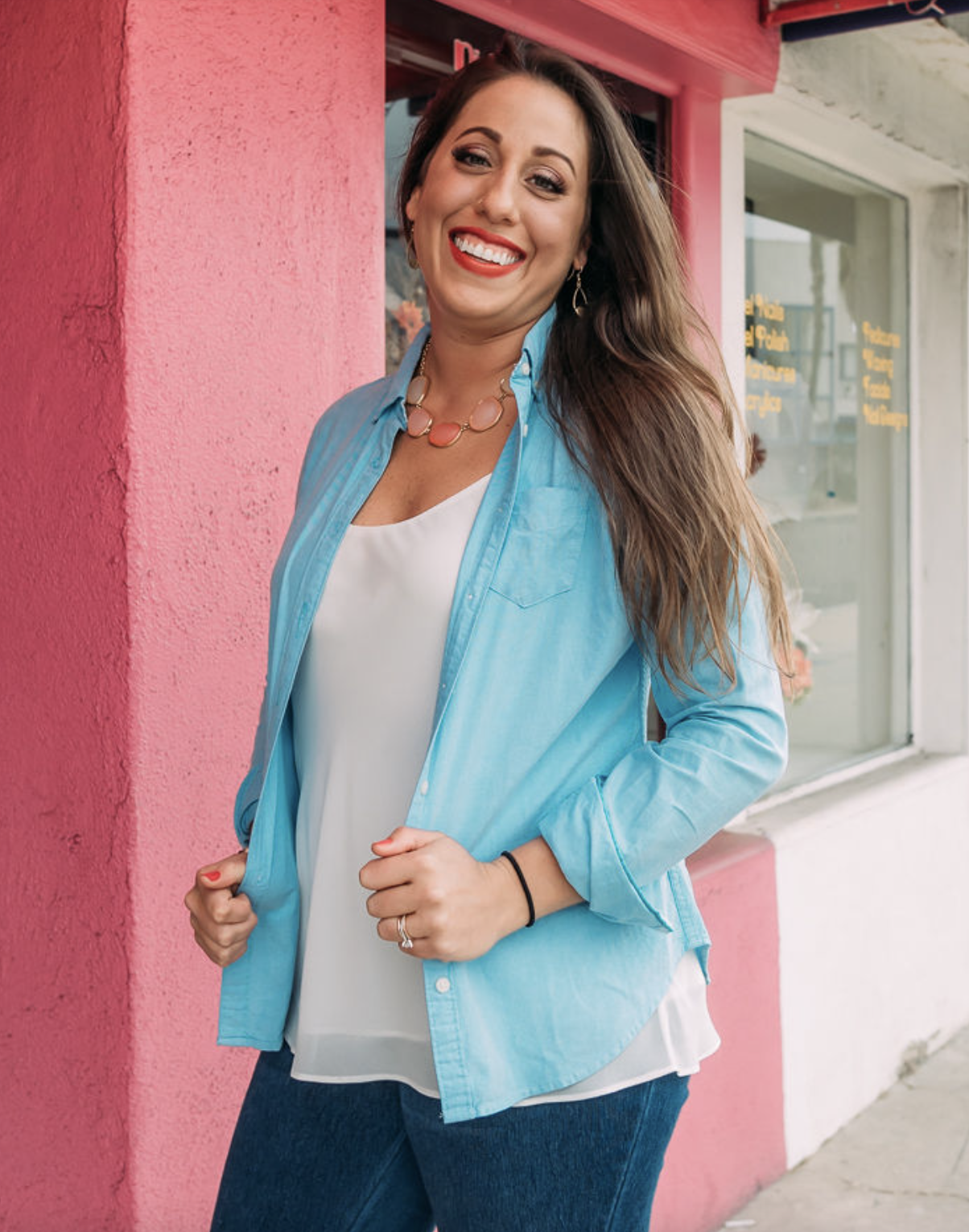 Justina Cerra
Justina Cerra Lucas is a marketing consultant and the owner of 218 Creative, a boutique marketing consultancy for entrepreneurs and creatives. Her career experience covers nonprofits to Hollywood entertainment and everywhere in between, but she has found her best success and joy in working with designers, creatives, and makers.
LinkedIn or Professional Website:
218creative
LinkedIn
Justina brings thoughtful strategy to the table, pushing back against generic "one size fits all" marketing advice. Instead, she empowers others to dig deeper, simplifying their marketing into more focused solutions that move the needle further. Her ultimate goal is to give her clients marketing strategies and plans that don't suck to manage or maintain.
How did you decide that entrepreneurship was for you?
I grew up around entrepreneurship, with my grandfather running his own business that he started in the early '70s. I look up to him for a lot of reasons. He is very driven, hard-working, and supportive of his community, and it all stems from his journey as an entrepreneur.
When I was younger, being in a role like his seemed like an overwhelming responsibility, but as I got older and could see the opportunities that he created for himself. I became more certain that entrepreneurship was my path to do all of that, too.
How did your educational background and professional experiences lead you to your current career?
I had a very unique educational experience at Slippery Rock University, where I was pushed far beyond the classroom to immerse myself in all aspects of communication and marketing in the "real world."
I got to experience leadership roles, creating programs and organizations from the ground up, big successes and big failures, and ultimately making decisions that not just prepared me but excited me about all the possibilities that I could create for my own career.

But there was a point early in my career that I was seriously regretting the path I chose. My experience at that point was nothing like the bubble I had in college. Instead, my job experience was full of toxic work environments and miscellaneous projects that felt disjointed from the mission of the organizations and companies that I worked for. It felt like there was more competition than collaboration within the teams that I was working with, even though we ultimately all had the same goal in the end.

I didn't know it at the time, but that challenging work environment forced me to lean on the leadership and creative skills I learned in college and drove me to build the career that I have now – one that's full of collaboration, empowering others, and focusing only on the work that is going to truly move the needle towards shared goals.
What are some of the lessons you learned when starting your business?
One of the biggest lessons that I learned in starting my own business is to take business and entrepreneurial advice with a grain of salt, because it can be really detrimental without context.
I can't tell you how many times I told someone I was new in business and they spit out advice on business practices, finances, productivity routines, you name it – all without knowing what I do or who I serve.
My niche is very specific and the processes I operate within are really unique, so if I listened to everything out there, it could take me down the path of a "Frankenstein business," where there are just a bunch of disjointed pieces that don't quite fit together.
People are good-hearted and truly do want to help when they share their experience and advice. It takes practice to take the advice with a grain of salt and stay focused on what you know to be true about your own business and goals.
What is unique about your business?
218 Creative is a lot more comfortable for my audience to work with than a typical suit-and-tie, "contact us for pricing" type of marketing agency. I work with entrepreneurs and creatives who tend to get ignored by other consultants because they have a smaller budget to spend.
What makes me truly unique is that I have a flat-fee, three-tiered process that is specially designed to accommodate these smaller budgets. Because of these tight processes, the bulk of our work is done in 30 days or less, which means that the people I work with can get up and running faster than they would with someone else who might drag out a project for a longer period of time.

Everything I do is geared towards empowering my clients to succeed without me. I give them the training and tools that they need throughout our work so that they can take the exit route comfortably at any time. This sets me apart as a partner in their business success, not just a consultant or contractor.

What types of strategies did you use to market your business?
The number one strategy that has worked for me is building relationships by giving value. I hang out a lot both in person and online in the spaces where my target audience lives.
I support them in their journey by answering questions, sharing resources, and offering to connect them with other professionals. Because of this, they see me as a partner in their success, and that opens up the door to a more genuine conversation about how I can help them with their marketing.
What skills do you believe entrepreneurs need in order to be successful?
The number one skill that I think entrepreneurs need to have in order to be successful is the ability to break out of the "stay in your lane" expectation. We're taught early on by society to pick one thing, get really good at it, and stay in your one lane with it forever and ever as your career.
That's all fine and dandy if you want the fast track to climbing the ladder at someone else's corporation. But if you want to be a successful entrepreneur, you have to be willing to dump all the things you love on the table and ask yourself, "how many lanes wide can I make my highway?"

Entrepreneurs need the ability to seek out and build a circle of people and experiences that will support their goals. If you're surrounded by people who are ambitious and push you to expand your horizons, you are going to have a very different journey than if you are surrounded by obligatory relationships and your comfort zone.
What advice would you give a woman who wants to become an entrepreneur?
Embrace the "community over competition" mindset. Ask for help when you need it, and pay it forward by helping someone else when you can. There is room for all of us to succeed, but it is up to all of us to create that opportunity for one another.
The Pathways for Women Seeking Leadership Roles
Many companies blame their lack of gender parity and diversity on women and other underrepresented groups not applying for positions. But creating equality in the workplace means providing support and avenues for women's success.
Fixing The Broken Rung: A big reason women are underrepresented at the top, in senior and C-suite positions, is because there are far fewer women in mid-level management. Experts refer to this phenomenon as the broken rung. Companies should aim to interview as many women for mid-level management positions as men to start to bridge this gap.
Mentorship: Studies have shown that mentorship and networking contribute to higher retention rates and career advancement. Companies should facilitate mentorship relationships between senior leaders – especially female ones – and women who are earlier on in their careers.
Encourage Career Advancement: A KPMG study found that a whopping 75% of female executives experienced imposter syndrome at some point in their careers. Imposter syndrome describes the feeling of inadequacy and self-doubt that disproportionately affects women, especially in the business world. One way to inspire more women to pursue leadership roles is simply by encouraging internal employees.
Measure Progress: Similar to accomplishing any other goals in work and life, it's important for companies to set concrete milestones regarding promoting women within the organization. Making a vague declaration to increase gender parity does not create a foundation for real change. Instead, companies should set measurable objectives.
Resources for Women Leaders
Networking is especially important for women business leaders in male-dominated industries. Networking creates a sense of community. Below, you can find some of the most prominent professional organizations that connect women in business and leadership.
Professional Organizations
The ABWA's mission is to unite women in business from different industries and statuses. They provide opportunities and events that empower them to make connections and grow personally and professionally.
The BPW is an international network for women in business that has been around since 1930. It offers opportunities for networking, mentorship, and skill-building.
The organization was founded in 1912 under the name League of Advertising Women to encourage women to enter the advertising industry. Since, they have rebranded as She Runs It and spanned into other areas of marketing, media, and tech.
WIIP tracks and reviews legislation concerning business owners and informs its members of legislators' positions on issues. The nonpartisan organization's goal is to amplify the voices of female business leaders to strengthen their impact on public policy.
Common Questions
Does gender affect leadership?
Studies show that women business leaders are more likely to model transformational, democratic leadership styles than men, who are often more authoritative. These generalizations don't apply to everyone.
How many entrepreneurs are female?
According to the National Women's Business Council's most recent data, there are more than 11.5 million women-owned businesses in the U.S. representing 38% of all businesses.
What challenges do female entrepreneurs face?
Female entrepreneurs face many challenges. Some examples include more difficulty in obtaining loans, higher rates of imposter syndrome, a smaller pool of same-sex mentors and role models, and a greater liklihood of being responsible for raising children and household tasks.
Why is female leadership important?
Encouraging female leadership is not only important for the benefit of individual women themselves. It also contributes to company success. Research shows that companies with more female executives make more money.
Featured Image: pixelfit / E+ / Getty Images
Search Programs by Concentration
View schools and degrees from across the country.
Find the right program to advance your career.