Inspirational Women Entrepreneurs
Reviewed by
Our Integrity Network
OnlineMBA.com is committed to delivering content that is objective and actionable. To that end, we have built a network of industry professionals across higher education to review our content and ensure we are providing the most helpful information to our readers.
Drawing on their firsthand industry expertise, our Integrity Network members serve as an additional step in our editing process, helping us confirm our content is accurate and up to date. These contributors:
Suggest changes to inaccurate or misleading information.
Provide specific, corrective feedback.
Identify critical information that writers may have missed.
Integrity Network members typically work full time in their industry profession and review content for OnlineMBA.com as a side project. All Integrity Network members are paid members of the Red Ventures Education Integrity Network.
More women are taking the plunge into entrepreneurship. Hear the stories of inspiring women entrepreneurs below.
OnlineMBA.com is an advertising-supported site. Featured or trusted partner programs and all school search, finder, or match results are for schools that compensate us. This compensation does not influence our school rankings, resource guides, or other editorially-independent information published on this site.
Are you ready to discover your college program?
Credit: Images courtesy of Amy King and Shawn Zanotti
Currently, about 4 in 10 businesses in the U.S. are woman-owned — and that share is on the rise. In fact, in 2021, nearly half (49%) of new businesses in the U.S. were started by women, a huge increase from 28% of new businesses in 2019.
More women are taking the plunge into entrepreneurship for a variety of reasons. Some resigned or were laid off during the COVID-19 pandemic and turned it into an opportunity to reinvent their careers.
Others have simply grown dissatisfied with rigid office jobs that don't allow schedule flexibility — despite women often being the main caretakers in their families. Many mothers see entrepreneurship as the best option to make money while raising children.
Additionally, many women — with or without children — are simply tired of not being paid equally to their male colleagues, not being given the same advancement opportunities, and not being recognized for their work in office environments.
Reasons vary from person to person, but universally, women are increasingly realizing their potential. And recent research from the Harvard Business Review suggests that common traits of women — such as empathy and collaborativeness — are helping women outpace men.
While women are catching up to men in business leadership, they still face unique challenges. These women entrepreneurs share their successful strategies and the lessons they've learned since starting their own ventures.
Featured Entrepreneurs
Amy King, CEO & Founder of Pallet
In 2016, Amy King had an idea: to create communities of independent tiny homes for people in transitional periods of life. The company would later be named Pallet.
The idea came to King while working with her husband Brady at his construction company. Many of the people they employed had previously been incarcerated. Over time, the Kings observed how and why people end up in the criminal justice system, and how that led to homelessness. King saw an opportunity to help.
Company website: Pallet
Company age: 6 years
Mission: To provide rapid-response shelters for those either homeless or in housing transition
The concept of Pallet tweaks the model of traditional homeless shelters by providing people the dignity of having their own lockable private space. Pallet also provides career and mental health resources for those in need.
A Pallet village consists of private residential units with communal bathrooms, laundry rooms, and community centers. This gives residents the time, space, and resources to find long-term solutions to whatever challenges they're facing. And the model can be replicated from city to city.
Many nonprofit organizations seek to reduce homelessness, but funding limits their progress. King sought to approach the problem in a new way: through a profit-based business model.
"Nonprofits have a wonderful place in the world, but they are hard to sustain and have some challenges," King said. "So the idea of being able to create a business that could give back to its community and be a part of social change and also be sustainable was what I really wanted."
Pallet sells its shelters the way any other retailer sells products, except its customers are cities and states who want to help their houseless population. Communities often finance these projects through government funds, grants, and fundraisers.
Pallet's first project was based in Tacoma, WA, near King's home in Seattle. "It felt like, 'Ok, we've entered the market, we've proven the concept, we know that there's interest … but we had to really start thinking about forecasting and modeling and what this might look like longer-term," King says.
"I have hired an amazing team that shares this passion with me and cares about this issue so much … They know about things I don't know about, and I let them lead when they know more. That has taken us farther than anything else."
-
CEO & Founder of Pallet
Turning the idea of temporary tiny houses into a practical, scalable product was no easy feat. During the first few years, King and her team spent most of their time studying other similar ventures that didn't succeed. They also market tested, researched, and prototyped their shelters to test for safety. The process was slow, tedious, and — at times — discouraging.
"The first two years were very technical in nature and there were times when we were like, 'Oh my gosh, what are we doing? This is insanity,'" King says. "But the more the problem [homelessness] grew, the more we were like 'we really need to figure out how to make this happen.'"
King says surrounding herself with experts in different areas — like other philanthropists, service providers, business minds, and people who have experienced homelessness themselves – set Pallet up for success.
"I have hired an amazing team that shares this passion with me and cares about this issue so much … They know about things I don't know about, and I let them lead when they know more. That has taken us farther than anything else."
Due to some initial skepticism, Pallet's growth was somewhat slow. Would Pallet villages be more effective than traditional shelters? Are they worth the investment, given the other services addressing homelessness already in place? Are they safe?
But during the COVID-19 pandemic, their unique model — which gives residents their own private living spaces, as opposed to communal sleeping areas — "shot to relevance," King says.
"Cities needed individual spaces for people to stay so they weren't in congregant settings… But then once they saw the model in action, it validated what we were telling them, which is this is the superior model, people transition through faster."
"If you are really passionate about it and you care, and you believe [your idea] has a place in the world, don't let someone else tell you that it doesn't."
-
CEO & Founder of Pallet
Over the two-year period after the onset of COVID-19, the company grew 7,000%, King said. Now, there are more than 100 Pallet sites across the country and its network is still expanding.
For King, there has been no secret to success. It's a combination of a little bit of luck and a lot of hard work. Her advice for other women entrepreneurs is simple: stick with it.
"If you are really passionate about it and you care, and you believe [your idea] has a place in the world, don't let someone else tell you that it doesn't," King said.
"I would say as a female, you really have to hold your head up and have the confidence. You have been given a calling and something to chase after. Chase it with everything you have."
"And be willing to get your hands dirty. The vast majority of people can be entrepreneurs, but you have to have that grit."
Listen to Amy's thoughts on…
Clip 1: "Surround yourself with other people who are smarter than you, which is something lots of entrepreneurs have said forever. It is so true. I have hired an amazing team that shares this passion with me, and they care about this issue so much, and they are smarter than me.
They know about things I don't know about, and I let them lead when they know more. That has taken us farther than anything else. I was willing to pay them more than I paid myself so that I could have the knowledge -- that made a huge difference."
Clip 2: "It's the misconception that 'oh, I can do that.' And the vast majority of people can be entrepreneurs, but you have to have that grit. Like, I'm willing to clean the toilets today. I'm willing to be the person who goes and builds the product on the floor because everyone called out sick and we have to make a delivery. So, here I am putting on my steel-toed boots and I'm going down to the floor. You have to be willing to do whatever it takes, and not everybody has that or is willing to do that."
Biography: Amy King
Amy King is the owner and CEO of Pallet, a Seattle-based social purpose corporation (SPC) striving to improve people's lives while also being successful and profitable. Pallet prevents and reduces homelessness, both through the products they build and the invaluable people who produce them.
They are second-chance friendly, hiring and investing in people actively engaged in recovery and reintegration. King and her husband Brady started Square Peg Development in 2014, which led them to hire previously incarcerated individuals.
As they heard the stories and struggles of their employees, they became passionate about removing barriers to re-entry, and sought to provide an opportunity for more people in transition.
In 2016, they founded Weld Seattle, a nonprofit geared toward providing a supportive community and removing barriers to employment and housing for people focused on re-entry.
King has a degree in psychology. She spent most of her career in healthcare administration, with a concentration on managing large surgical practices. This business experience prepared her to own and operate her current companies while serving her ambition to work for a company both people-focused and profitable.
---
Shawn Zanotti, CEO & Founder of Exact Publicity
Shawn Zanotti had a successful career as a reporter before she started her own PR company. Her education and background in broadcast journalism gave her a built-in understanding of how to appeal to media contacts and pique their interest in stories. She still approaches her work through a journalistic lens.
"It was interesting because as a reporter, you're doing the same thing, but on the other end — you're still building the story and putting it out there… but as a publicist, you're building the story for the client and pitching it to media contacts."
Company website: Exact Publicity
Company age: 14 years
Mission: To provide public relations and crisis communications to clients
Starting her own business wasn't something Zanotti always planned. After an unexpected loss in her family, she left her job and moved to Chicago to reset.
At a friend's event, she met an employee of Michael Jordan who said the athlete was looking for new PR representation. Zanotti saw an opportunity to leverage her skills in journalism to take on the project.
"I started doing PR for him [Jordan] almost 14 years ago, and that's how I started the company. I didn't have a plan, thinking that was what I was going to do at that particular time in life," she said.
Today, Exact Publicity has clients in sports, entertainment, business-to-business, marketing, and nonprofit organizations. It has offices in Chicago and Los Angeles, which Zanotti runs with the help of eight employees.
Zanotti started by offering general PR services, but has branched into crisis management, integrated marketing, and social media management. Now, she can be more particular about the types of clients she takes. But in the beginning, she experimented before narrowing down her niche.
"You have to be flexible. I have failed so many times in business — truthfully — and the beauty of the failure every time is that then, the next time it comes up, you're able to do it a little bit better."
Her reputation for professionalism and attention to detail has earned Zanotti the trust of high-profile clients like Amber Rose, Dwyane Wade, and Hennessy.
Zanotti enjoys the independence that comes with being her own boss, but she emphasizes that it's a trade-off.
"As the owner, you're always thinking of your next client, your next deal, your 3-month plan, your year plan, five years from now… it's a whole different level of stress than what it takes when you just work for someone and go in there and get your check every two weeks," she says.
Zanotti compares the experience of entrepreneurship to a roller coaster: there are highs and lows. Her biggest tip for success is patience and stick-to-itiveness when the inevitable lows come.
"I still have moments where I say, 'I can't do this today'... but every time I get to that point, I get a bigger client," she says. "... I feel like you have to just keep going and eventually, it clicks."
"Have a lot of patience," she added. "I feel like you think, 'I just get this business license, I do the marketing plan, maybe PR plan, and boom, you're going.' Again, you have to put in time to get results."
"The beauty of the failure every time is that then, the next time it comes up, you're able to do it a little bit better."
-
CEO & Founder of Exact Publicity
Even in good times, Zanotti is always anticipating the ebbs and flows, which is what kept her ahead of the market.
"Even if you lucked out … and do very well in the first year, you still have to put in time for the longevity. Even if you did well last year, how do you continue the flow?"
Being a woman entrepreneur has its unique challenges — and Zanotti has experienced this phenomenon herself. While women comprise a significant percentage of the PR workforce, upper management in the field is still dominated by men.
Like many women business owners, learning to project the "right" amount of assertiveness was a challenge for Zanotti. Despite women's increasing presence in leadership roles, many women still find they are perceived negatively when they demonstrate the same confidence as men do, who are praised for it.
This can be frustrating for female entrepreneurs — and rightly so. But Zanotti has found support and encouragement through connecting with other women leaders in her industry.
"There's a level of sisterhood. Collectively, we look out for each other. If you can find a community of some sort in your industry, however it may look, it helps," she says. "It goes a long way on the day-to-day to [help you overcome] what you may be dealing with as an entrepreneur."
Listen to Shawn's thoughts on…
Clip 1: "I think that what people don't understand when it comes to business is that it is literally a journey. You know, not to sound cliche, but it really is. And you know it's different when yours is different; you have a franchise as opposed to if you're starting something that was a brainchild of yours and you're now, you know, trying to get it out there to the world and working off this brainchild and trying to figure out how those pieces and come into play."
"So I think people have to have a lot of patience and be able to understand it's like a roller coaster, literally. So when you're on a strong high, enjoy that high because there's going to be some times you're going to be going down. It's going to be a low, like a roller coaster, and then you're going to climb back up again. And that's really the way life is. And it's really the way it is, you know, being a business owner."
Clip 2: "I think one of the main things that you have, you have some freedom. You have control. So if you wanted to -- not that you should -- wake up at 10 o'clock (but if it was a day where you were like 'you know what? I can't do ...I can't do early morning, this morning, well, you can probably shift your schedule or make those adjustments in order to make that possible.
I think the level of freedom, for me, has been amazing. Especially me being a mom and being able to adjust my schedule. Even with my clients, right now, they all know I'm a mom and I've learned how to strategically, you know, kind of put some boundaries up...boundaries with my staff, and boundaries with everyone, in order to make that possible. I don't know if I work with someone else, or work for a company if I would have that level of freedom. And that for me, is really important."
Biography: Shawn Zanotti
Shawn Zanotti is the CEO and Founder of Exact Publicity. She's also an author of "Top Ten PR Tips," "Embracing the Rock in Your Journey" and co-author of the best-selling book "Shift."
In addition, Zanotti is a TV producer, writer, and broadcast journalist. She began her career as a TV news anchor and reporter in various markets. She currently serves as a TV host, spokesperson for various brands, and podcast host.
Zanotti chose to expand her media knowledge by founding Exact Publicity more than 13 years ago. She noticed a gap between the role of an involved publicist and the client. She also noticed the need to offer publicity — let's face it, every business, person, or idea needs PR.
Zanotti works closely with client accounts to enforce branding, accountability, and accuracy. She's a firm believer that company success relies heavily on the clients' success.
Zanotti focuses on brand development, media training, damage control and prevention, and more. Her success story is built upon wholehearted commitment and attention to detail. She is one of the very few successful females in a male- dominated industry.
Exact Publicity provides the highest quality service for clients seeking marketing, public relations, event planning, management, and charity work. Exact specializes in a wide variety of service areas, including: public relations, branding and endorsements, integrated marketing, celebrity representation, charitable foundations, social media content creation/management and media training.
Zanotti focuses on building brands and bottom lines, maximizing clients' return on investments. She is nationally renowned for creativity, placement success, superb writing, and media reach.
Exact's clientele run the gamut from sports, entertainment, business-to-business, nonprofit and marketing assignments. It is known as a premier damage control and branding agency.
Special message from the editor:
Valerie Black
It's easy to just look at a list of women who are successful at their entrepreneurial ventures. You'll find that with a quick Google search. But what's the story behind their success? These profiles are about women, just like you, who had an idea and are on the path to seeing it through.
The intent of this page is to inspire, encourage, and motivate other women to put their business plans into action, and know that there is a tribe of women out there who see you and are supporting you.
Through these stories, you may see reflections of yourself and gain inspiration on your entrepreneurial journey. We'll add newer interviews from time to time. If you are a woman entrepreneur with an interesting story or you know someone who is, email submissions to me at vblack@redventures.com.
Reviewed by: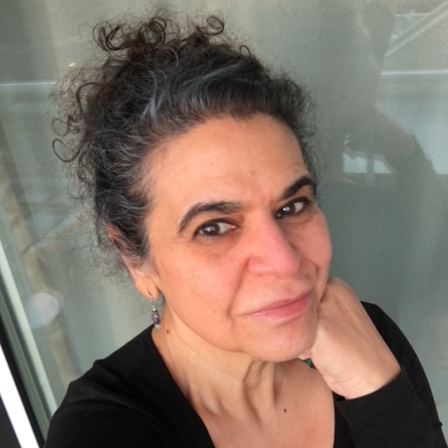 Laila Abdalla, Ph.D.
Laila Abdalla obtained her Ph.D. in English from McGill University in Montreal, Canada. She taught undergraduate and graduate courses in English and successful writing at Central Washington University for over 21 years.
Currently, Abdalla serves as a Washington state career coach and advocate for individuals on temporary state assistance. Abdalla has devoted her career, teaching, and leadership to matters of equity, diversity, and inclusion. Above all, she is committed to her clients' and students' complete experience, raising awareness of BIPOC issues in employment, language, community, and culture.
Abdalla leads with equity in management and nonprofit volunteering, and continues to develop her own understandings of these complex issues — both professionally and in her lived experiences.
Laila Abdalla is a paid member of the Red Ventures Education Integrity Network.
Page last reviewed September 5, 2022
Featured Image: 10'000 Hours / DigitalVision / Getty Images