OnlineMBA.com is an advertising-supported site. Featured or trusted partner programs and all school search, finder, or match results are for schools that compensate us. This compensation does not influence our school rankings, resource guides, or other editorially-independent information published on this site.
Are you ready to discover your college program?
Credit: 10'000 Hours / Getty Images
While recent years have shown signs of progress, the finance industry still limits women's access to success, particularly to top-level positions.
According to Mckinsey research, women make up just 27% of C-suite finance professionals, compared to 52% of entry-level professionals. This means that the 48% of men who start in the profession eventually grow into 73% of the leadership positions. The gender discrepancy is significant. What happens within this field to reduce women's access to leadership? Several factors, including gender discrimination and stereotypes, lack of support, social pressures, and flawed corporate structures contribute to the hurdles placed in women's way to leadership success.
This systemic disparity that hampers women's success affects individuals and has significant consequences for the entire industry. Women have the right to succeed in any business, and legally, employers must support all genders they employ. Additionally, fostering diversity within the financial sector has far-reaching benefits. Work environments with diverse perspectives and a range of experiences lead to stronger outcomes and more inclusive work environments.
The History of the Gender Gap
Since the 1990s, women have entered what were traditionally male industries in large numbers. In many of these industries, including finance, women have encountered gender-based barriers on their way up the corporate ladder. This effect has been dubbed the "broken rung."
Women receive promotions less frequently than men, which compounds at the highest levels. The reasons vary. Women typically receive less advancement-driven support. Stereotypes and unconscious bias create the perception that typically masculine traits better suit leadership. Women also have to battle hostile and rigid work environments.
Despite unequal access to leadership positions, women often carry more responsibility than men in organizations. McKinsey research found women take on more duties outside their roles and provide more support to their teams.
The Importance of Gender Equality in Finance
Gender equality can have powerful effects. Not only should it be the goal of every organization, but it is legally expected that every organization should strive for equitable representation. By drawing from the entire population in a balanced manner, organizations have access to the greatest leaders. According to Cloverpop research, inclusive teams also make better decisions nearly 90% of the time and two times faster.
Some studies have found women outperform men in many traditional leadership qualities. For example, a study from the Harvard Business Review found that women surpassed men in initiative, resilience, and self-development.
In addition to these time-proven leadership techniques, more recent research has also found that women leaders often can contribute to newer expectations, such as fostering more supportive and welcoming work environments. Women have the legal right to be leaders in finance, and likewise, having women leaders can help organizations in the areas of professional development and employee retention. It also makes employers more desirable for job candidates of all genders and helps them develop a more profitable brand for a similarly diverse society.
Fair representation should be an ethical expectation for any organization, but the positive effects that result from diversity might help motivate companies and industries that are late in discovering the business benefits of a diverse workforce and leadership.
Empowering Finance-Minded Women: Key Advice and Strategies
Organizations and other professionals can support and empower women in finance in many ways. The following ideas highlight some of the most impactful strategies to fast-track the path to equality.
Mentorship and networking opportunities

A supportive work environment invests in its people with inspiring and encouraging programs. Organizations can support diversity by developing more mentorships and support channels by and for women. Showing women examples of fair representation and surrounding them with like-minded leaders can be a motivating experience.

Building confidence and assertiveness

To develop confidence and assertiveness among women in finance, the industry must provide equal standards and accommodation. Women must know they will not be judged unfairly for leveraging their rights, such as voicing concerns or using flexible work options. Organizations need to demonstrate that they will value assertiveness in women as much as they do in men.

Breaking stereotypes and challenging biases

To achieve equality, organizations need to investigate their social and structural biases. They need to reconsider how they value "masculine" traits, the social and support expectations put on women, and how they measure individual and team success.
Insights from Women in Finance
We spoke with Sarah Goodman and Jessica Meunier, two respected women leaders in the financial sector, to learn about their experiences in the roles and challenges they face as women in this industry.
These interviews have been edited for length and clarity.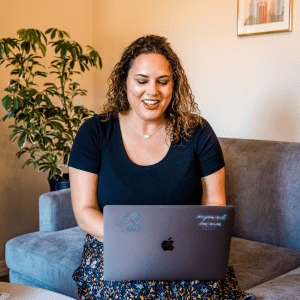 Jessica Meunier
Jessica is passionate about all things money! She has a wealth of experience in financial planning in the tech, non-profit and higher ed sectors. Like many parents during the pandemic, the need for more flexibility with two kids sheltering-in-place and the stress of two working parents collided, making it the right time to transition to entrepreneurship. Now, she is realizing her dream and providing a new approach to financial planning - personalized guidance, virtual, and charged by the hour. When she's not crunching numbers, she is busy raising two young daughters with her husband, spending time outdoors, traveling and baking.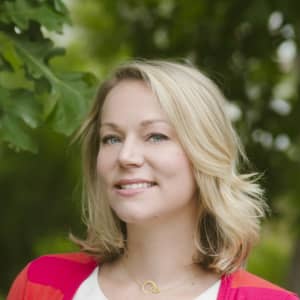 Sarah Goodman
Sarah Goodman is an accomplished M&A advisor and founder of Eminence M&A Strategies, where she provides personalized guidance to business owners seeking to exit their companies. With an extensive business development, project management, and client services background, she is a sought-after public speaker, contributor, and podcast guest, recognized as a formidable leader in the M&A field.
Can you share your experience as a woman leader in the financial industry and how you have navigated your career in a male-dominated field?
Goodman: My journey to financial services as an advisor in Mergers & Acquisitions was atypical. I entered the industry mid-career after many years of working with public and private companies in a leadership and operational capacity.
I've learned to embrace my strengths and the unique perspectives I bring, both with my career experience and as a mother, working parent, and woman. Maintaining a relentless focus on prioritizing relationships and operating with a high level of integrity and accountability has been most helpful to me in navigating my career.
Meunier: Rising up in a male-dominated field while focusing on flexibility as a working parent is a balancing act in grit and grace. As with anything worth fighting for, there are plenty of highs and lows, but I consider it an honor to forge the way for future generations of women.
I focus on my "why" when overcome with a sense of defeat. I do this work because I love math, learning about the industry, and empowering others. Everyone deserves to manage their money and grow their wealth. When I focus on my mission and qualifications, blocking out the noise or comparisons is easier. I also keep a journal of achievements and client testimonials that I can reflect upon when I need to get into a more positive headspace.
How do you believe gender diversity can positively impact the finance industry in terms of innovation, decision-making, and overall performance?
Goodman: Gender diversity brings a broad array of perspectives, leading to more creative problem-solving and innovative ideas. It leads to more robust decision-making processes as diverse teams are more likely to consider a wider range of options and potential impacts.
From a performance perspective, gender-diverse teams and companies outperform their less-diverse counterparts. Numerous studies have findings that support this, and I've experienced this myself as a leader of teams large and small. Moreover, diversity enhances a company's ability to understand and cater to a broader client base, thus driving overall business success.
Can you share a personal experience or insights regarding specific challenges faced by women in the finance industry and how they can be addressed?
Meunier: Exclusionary activities are still prevalent in the financial workplace. I've had this happen to me personally, where an all-male team would go out for golf and beers without even thinking to mention it to me. Inevitably, work talk comes up, opportunities abound, and women slide further back.
Everyone can address [this challenge] in a workplace by becoming educated and aware of these unfortunate norms, big or small. Knowledge is power; the more we know, the more we can grow together. Leadership teams can help by giving guidelines for inclusive team events and regular training on gender bias.
How can organizations attract and retain more women in finance and create a more inclusive and equitable industry?
Both Goodman and Meunier agreed on four implementations that organizations can introduce to create a more inclusive and equitable industry.
A robust mentorship program
Pay transparency
Flexible work arrangements
Supportive parental leave policies
These changes would "support development to create a culture that values and respects diversity — not just gender diversity, but diversity of thought and experience from multiple angles," said Goodman.
When women have trusted resources and a safe space to collaborate, they can soar.
– Jessica Meunier
What advice would you give to women seeking careers in finance, considering the existing gender disparities and challenges they may face?
Goodman: Understand that your voice and perspective are essential for continued growth and success in the industry. Your contribution is needed and brings value. Actively seek mentors who can guide you, and don't be afraid to ask for what you want. It seems like simple advice, but advocate for yourself like you're your biggest [and] most important client or partner.
Meunier: I'm a huge fan of visual signals to hype me up when I face discrimination or others' doubts. I have affirmation cards in my bedroom, quotes framed in my office, and inspirational reminders on my phone. The more positive vibes I take in, the more confidently I get through the tough days. I like to use visualization exercises to change my perspective. I visualize where I want to be and think of small, actionable steps to get there. This helps me remember what I'm working toward and stop listening to the noise inside my head and around me. Also, don't forget to practice your power pose a couple times a week!
While it won't necessarily be smooth sailing, it'll be worth it! Creating pathways for generations of professional women to come is a meaningful pursuit. It's our responsibility not to just call out injustices but to change them.
Looking Ahead
As the finance industry strives for progress and equality, a future with more women in leadership is essential. Organizations can create a more inclusive and equitable industry by addressing the systemic barriers and biases that hinder women's success.
The benefits of gender diversity make it clear that embracing and empowering women in finance is not only the right thing to do but also a strategic advantage for businesses.
Resources
The FWA supports women in finance through professional development and mentorship opportunities. Along with a professional network, the FWA offers scholarships and education to finance students.
This organization seeks diversity in the finance industry by promoting equality and empowering women. The network offers mentorships and professional development opportunities.
The AFWA helps women advance within the industry with leadership training, education, and networking events.
The ABWA looks to advocate for women in business and improve their opportunities. They do this by surrounding members with a supportive network and offering leadership workshops and education.
Search Programs by Concentration
View schools and degrees from across the country.
Find the right program to advance your career.